Trifle, a Dessert with a History
Trifle is said to have it's origins in foole, a dessert of fruit puree, sugar, and whipped cream. In 1596 Thomas Dawson of England published a recipe consisting of thick cream, ginger, and rosewater. In later years a milk custard and alcohol-soaked bread were added.
Variations of trifle today include fruit, jellies or gelatin, custard, cream, and port or sherry-soaked cake. They are truly tasty and decorative as well.
Today my friend Annejie (pronounced A nee kee) shares with me her old family recipe for a delightful trifle. Annejie is originally from South Africa. She is of Dutch descent and her cooking is divine. To her family, Christmas without trifle would be an American Thanksgiving without turkey.
The British have influenced the South African culture throughout generations. They took over the Cape from the Dutch in 1795. It was returned to the Dutch seven years later and was seized by the British again in 1866. After the discovery of diamonds and gold in SA, the British fought determinedly in the Boer Wars to retain control. SA remained a Dominion of England until 1931.
Annejie's dishes often reflect English, Dutch, and Malaysian influences.
Planning The Trifle
Annejie plans her trifle in two-day sessions. On day one, she makes the cakes and prepares the Jello. The next day, she cooks her custard, whips the cream and layers the trifle when the custard has cooled.
South African Christmas Trifle
3 Loaves Sugar Cake, cut into bites, recipe below
4 Packages Lime and cherry Jello, large size
8-10 Cups Custard, favorite recipe or packaged
2-3 Cans Fruit Cocktail, tropical, drain and reserve juice
2 Cups Sherry or port wine
1-2 Cups Malted milk balls, optional
1 Quart Whipping cream, whipped
To prepare for her masterpiece Annejie will bake a "sugar cake". The sugar cake is surprisingly easy. Annejie prefers this recipe because the cake's texture and consistency are excellent for soaking up the fruit juices and port in the trifle.
Sugar cake recipe:
1/2 cup sugar
1/2 cup all-purpose flour
3 eggs
1/2 teaspoon salt
1 teaspoon vanilla extract
This recipe makes one loaf. Annejie needs a large trifle. She will bake 3 loaves of sugar cake.She begins by beating the eggs and then adds the other ingredients one at a time.She explains that a good mixing machine is important for the fluffiness of the batter.
Annejie bakes the sugar cake loaves in a 350-degree oven. They turn out perfectly as she removes them from the hot pans to cool on a cooling rack.
Jello Rainbow
The cakes are cooling. Annejie prepares the red and green Jello brand gelatin according to package directions. It will take awhile for the Jello to gel. Meanwhile Annejie stores the sugar cake in air-tight containers. They will be cooled off and sponge-like for the trifle building.
The Custard
Annejie will next make a custard for the trifle layering. This sounds like it is going to be a bit more difficult but Annejie makes hers with ease.
In the UK custard is a medium-thick sauce and is popular for using in desserts. Many times people want to resort to packaged custard because it is easier. But for the best tasting custard Annejie recommends a homemade custard.
Like most good cooks, Annejie measures, tastes and adds as she cooks. There are many custard recipes available if more precise measuring is desired.
Annejie makes her custard with milk, sugar, vanilla and custard powder. She uses almost a gallon of milk.She purchases custard powder, available in the international foods aisle in most supermarkets. She pours almost the whole gallon of milk into a large sauce pan. She heats the milk, adds some vanilla and begins with one and a half cups of sugar. She uses the rest of the milk to stir up with about 7 serving spoons of the custard powder. (To use eggs, use 8-12 beaten egg yolks).
Over medium heat she stirs the mixture constantly until it is a medium-sauce consistency.Annejie pours her custard into casserole dishes to cool.
The Fruit
The fruit is going to be an important part of the trifle.The fruit juice,combined with port or sherry, helps to give the trifle it's delicious flavor.The sugar cake will be essential to soaking up the liquids. Annejie chooses tropical fruit cocktail for her trifle.
Annejie uses a strainer to drain the fruit juice.She combines the drained fruit cocktail juice with about two cups of port wine. She sets the fruit aside to use in the layering.This trifle is sounding better and better!
Instructions For Christmas Trifle Recipe
Prepare the jello. Cut into cubes when set.
Bake sugar or pound cake in advance. Cool
Make custard using your favorite custard recipe. Cool
Drain fruit and reserve
Add fruit juice to sherry or port.
Cut cake into bite-size pieces
Layer ingredients in a large bowl. Cake, custard, Jello, fruit. Toss in a few malted milk balls if desired
Pour liquid over ingredients. Let soak a few hours.
Before serving, top with whipped cream and sprinkle with chocolate sprinkles.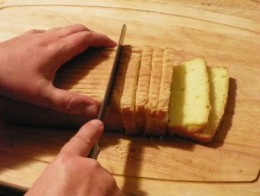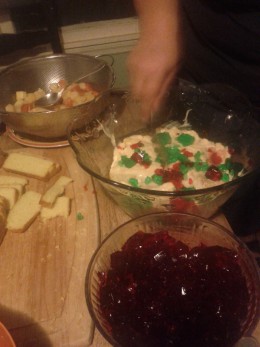 Putting it All Together
All the ingredients prepared, it is time to build the layers of the trifle. Annejie chooses a large glass bowl to make sure everyone can see that it is just as pretty as it is tasty. She begins by placing layers of the sugar cake at the bottom of the bowl. Next goes on some of the custard topped with the red and green jello (which has been cubed).Then she adds some of the tropical fruit cocktail.
Annejie continues to layer the cake, custard, Jello and fruit cocktail. She stops now and again to pour in some of the liquid(fruit juice and port mixture). Often when she makes trifle she will toss in a few malted milk balls here or there for a crunchy surprise but this is optional.
Annejie whips up a quart of real whipping cream to top her creation. Now the traditional Christmas trifle her family loves is ready to adorn the table. It is SO delicious! If you try Annejie's delightful trifle with ribbons of red and green gelatin, you may just start a family tradition of your own for generations!